4. It is advisable, even at this early stage, to play one piece that will sound fantastic and make the students feel they are playing something which has real potential. This piece should be accompanied by the teacher using a harmonic instrument.

The following is a recommended basic, easy piece, which is played with slight variations in rhythm, but with no change in the fingering of the left hand. The name of the piece is: "Dreaming" [From left to right]
| | | |
| --- | --- | --- |
| Dreaming – Base form | Dreaming – Variation A | Dreaming – Variation B |
| | | |
5. Playing an accompaniment to a well-known song
An accompaniment to a simple song may easily be written, for example, the song: "Frere Jaques":

Note: It is possible to write the song with an accompaniment coming in only on the beat.


6. Playing an accompaniment to a more contemporary song, "The Surfboard":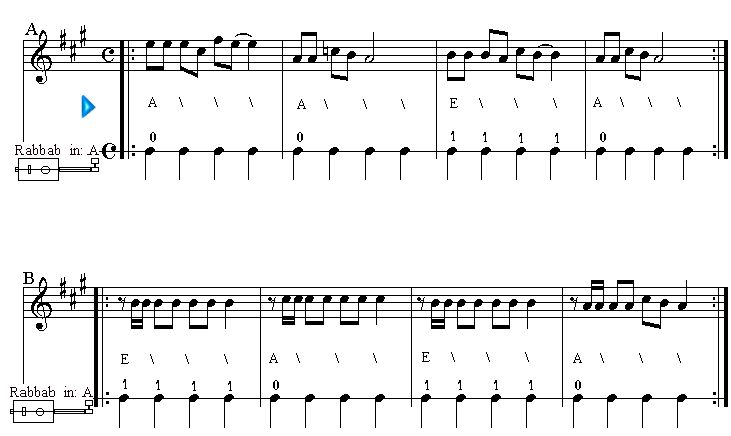 7. "Ancient Melody"
This is an obligatory composition in the program. We will only make the most of it when we reach the third finger, but it may be played at any stage.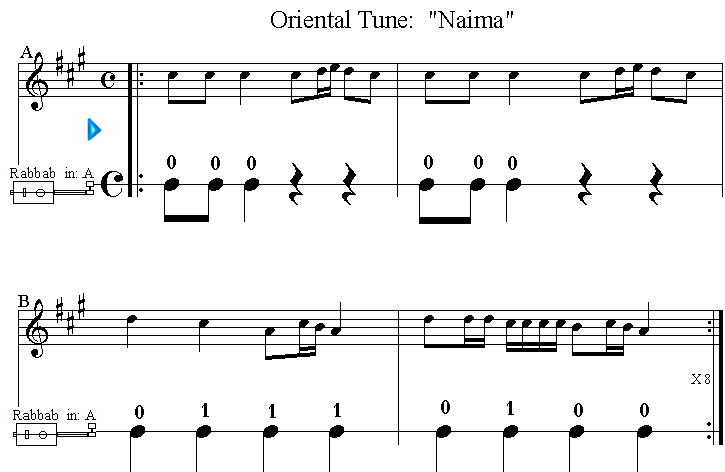 We can construct the melody in an A-B-A form, B being a part in which we tapping the back of the instrument.

8. Quizzes on sound qualities: pitch and sound duration loudness and timbers - Three levels based (dictations presented as a quiz).
Pitches example:The teacher will play two measures phrase using only three tone's pitches: Low, Medium, High.
Pitch levels
Dictation example
The student should write:
Low pitch = Open string 0
Medium Pitch = Finger No. 1
High pitch = Finger No. 3
The same idea can be use for dynamics: Soft = p, Medium loud = mf, Loud = f.
loudness levels
Dictation example
The students should write:
Soft = p
Medium loud = mf
Loud = f
Use this idea for notes duration, first use only three levels duration: Short = Quarter, Medium = Half, Long = Whole
You can try even make a timbers dictation by playing in two different places: Above the hole which should be marked as: "L" (loco) and very close to the bridge which should be marked as: "SP" (sull ponticello)
In case you have a challenged class you can mix two sound-qualities in one dictation... Try not to make the dictations too hard, always remember that the program main goal is to bring the student to successes via our program!